Daaru Salaam Universirty Somalia & Stafford University Uganda Partenership Agreement
The two senior officials, Dr. Osman Mohammed from DSU – Somalia and Dr. Henry D. Egessa from SUU-Uganda officially signed a collaborative agreement over academic development and post-graduate programs in Mogadishu Somalia.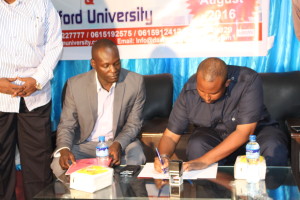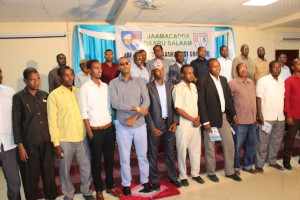 A highly organized ceremony that took place in Mogadishu attended by hundreds of people from the different  parts of the community including senior officials from the Federal Government of Somalia, ministers, parliamentary members and other people from the civil society, was dedicated to welcome a new dawn to all Somali scholars that would enlighten many darkened gaps of the higher education in Somalia. Dr. Egessa, Chief excutive officer (CEO) of Stafford university-Kambala who took the microphone with confidence gave to the audience  a fine intellectual speech after greetings and rendering thanks to his counterparts from University of Daaru-salaam and all participants. Dr. Egessa, a PhD holder and a high expert in academic development , who very delightedly with pleasure continued his speech, talking to the crowd who gathered in the ceremony hall offered confirmation and declared that DSU and SSU have become twins from that time and will together tend to get engaged to elevate the high education capacity in Somalia by specially targeting the Masters and the Doctoral degrees which became very scarce in the Somalia Universities. Dr. Osman, Chairman of the board of DSU-Somalia has in a smile expressed his gratitude  to Stafford University  and to Dr. Egessa in particular who sacrificed time and energy and at the meantime landed in Somalia accompanied by bravery and courageousness. " Availing to myself from this precious opportunity, on behalf of Daaru-Salaam University I am extremely impressed by the beautiful atmosphere today, it is actually a luck and hardwork that we went far to this point and succeeded to bring such an international university in Somalia for the benefit and promotion of our people" he added. Finally the two officials have pupblicly started signing the agreement witnessed by senior officials from the government and civil society.